A series of environmental tests for Chinese regulations (GB/T) of motors and inverters
Vibration test case study

SOR: Sine on Random

Other

Chinese regulations (GB/T)
Test overview
■ Purpose
To conduct tests that meet the requirements of the China Regulatory Test (GB/T)
■ Test contents
Example: Vibration test, temperature load test, humidity test, salt spray test, IP test, motor drive test, etc.
(In addition to the above tests, items such as insulation resistance measurement and charge/discharge confirmation are also included.)
■ Test samples
On-board motors and inverters
■ Test period
Approx. 2 months
■ Vibration test 1
EUT : Motor (410 × 780 × 470 mm, 95 kg including fixture)
Conditions: Sinusoidal vibration test (10 to 500 Hz, 8 h/direction), random vibration test (10 to 2000 Hz, 22 h/direction)
Facilities used: K200/SA24HM/H20
■ Vibration test 2 *Test state images are below
EUT: Inverter (200 × 100 × 50 mm, 10 kg including fixture)
Conditions: Sinusoidal vibration test (10 to 500 Hz, 8 h/direction), random vibration test (10 to 1000 Hz, 8 h/direction)
Facilities used: EMK0622/EH
■Temperature load test/Humidity test
EUT: Motor, inverter (Simultaneous testing)
Conditions: ① -40°C × 2 hours ② 85°C × 2 hours ③ 40°C (90%) x 48 hours
*Insulation resistance measurements are carried out before and after each test.
Facilities used: SMS-21
■ Salt spray test
EUT: Motor, inverter (Simultaneous testing)
Conditions:
① Salt spray: 48 hours at a chamber temperature of 35°C and a salt water concentration of 5%
② Drying: 2 hours at a chamber temperature of 30°C
*Insulation resistance measurements are carried out before and after each test.
Facilities used: CYP-200DZ
■ IP test
EUT: Motors and inverters
Conditions: ① IP5X test: dust test ② IPX4 test: waterproof test
*Insulation resistance measurement is conducted before and after the test.
Explanation: IP is a term indicating the degree of protection against solids and liquids external to electronic and mechanical parts, and the test content is defined according to the number that follows (the higher the number, the higher the level of protection), such as IP5X.
*Conducted by an affiliated contractor.
■ Motor drive test
EUT: motor
Conditions *2-hour endurance: Motor speed 2800 r/min, torque 25 Nm, ambient temperature 55°C
Description: This is a test in which a load is continuously applied to a rotating motor. Motor bench facilities used to apply rotation and load to the motor.
*Conducted by affiliated contractor
Vibration test 2 image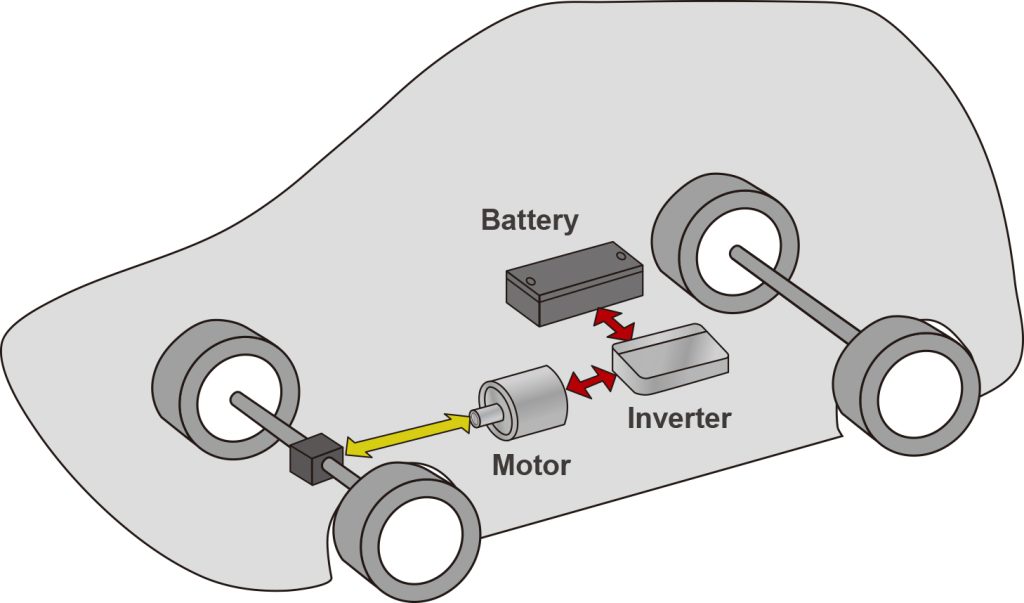 Test facilities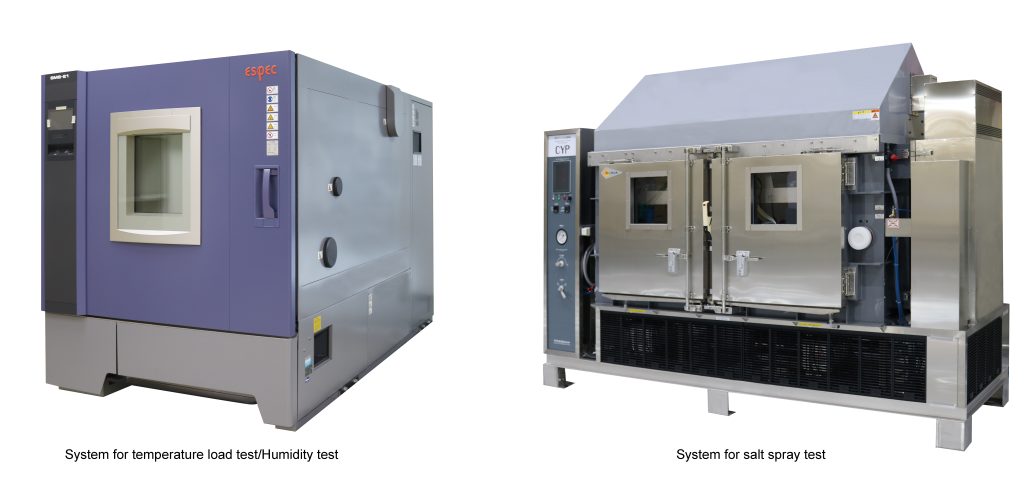 Memo
Facilities used
Vibration testing 1: Vibration test system: K200/SA24HM/H20
Vibration test 2: Vibration test system: EMK0622/EH
Temperature load test/humidity test system: SMS-21
Salt spray test: Accelerated corrosion test system: CYP-200DZ