Strengthen BCP Realized in IoT
Two Systems to Strengthen BCP in Buildings and Plants
Efforts are underway to ensure that companies properly implement BCP based measures in emergencies and emergencies.
It is essential for execute to quickly and accurately understand what has happened.
What is BCP?
Business continuity plan.A plan to establish arrangements for activities to be undertaken in normal times, methods for business continuity in emergencies, etc., in order to enable the continuation or early restoration of core businesses while minimizing damage to business assets in the event of a company encountering emergencies such as natural disaster, major fires, or terrorist attacks.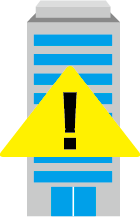 Expected Benefits of BCP Triggers
BCP is assumed to be planned and executed from normal times, but in emergencies, the following two are reference:
1. Ensuring The Safety of People

Survivors can act calmly by knowing themselves and circumstance around them. It is also easier for distant administrators to get an accurate and quick grasp of the site's circumstance to get an initial response.

2. Early Recovery

The speed of recovery and restoration can be greatly accelerated if it is possible to quickly determine whether or not to operate the rooms and equipment in the disaster-stricken buildings.
Examples and Considerations
Example.1
When the Great Hanshin Earthquake struck, the main equipment and machinery were in operation at a sludge treatment plant in the Kinki region. All machinery was shut down due to the power failure caused by the earthquake. However, the main machinery was turned automatically operation by the emergency power supply.However, the power supply was forced operation in spite of the loss of the connection with the subsequent machine due to the earthquake. This resulted in a serious failure of the main machine. The seismograph was then turned installation to ensure a reliable shutdown. However, vibration of the machine can be turned observing and interlocked to reduce unwanted machine stoppages.
Example.2
Under the Tokyo Metropolitan Government Ordinance on Measures for People who have difficulty returning home, business operators are obliged to make an effort to restrict the simultaneous return of employees to their homes. They are required to judge whether or not they will stay in the building by three Time after the earthquake, taking into account the earthquake resistance of the building and circumstance of damage in the surrounding area. This decision will be made by the building administrator, but it is not ambiguous to do so, and quantitative damage information on the building will be required.
We propose two systems that are particularly effective against earthquakes among emergency and urgent matters.
1. Condition Monitoring System
(CMS)
2. Structural Health Monitoring
(SHM)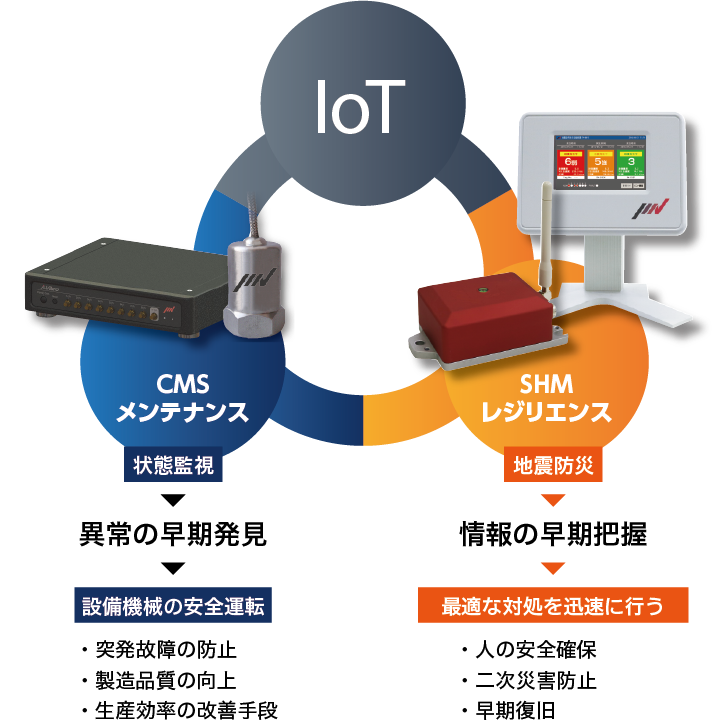 CMS Products(for machinery)

Model
Purpose
Use

Signs of machine shutdown

Default deterioration
Detection of signs

Identification of the cause

LambdaVibro
(VM-8018)
◎
◎
◎

●Earthquake Countermeasures for Existing Buildings
●Earthquake countermeasures at multiple sites

VP-100 CC551
◎
△
△

●Earthquake Countermeasures for Newly Building

VP-420

◎
×
×

●Control of critical facilities

SHM Products(for structural use)

Model
Purpose
Use

Earthquake Early Warning

Degree of damage Judgment

Alarm Control

Wireless Structure Health Monitoring System
(HM-5013)

◎
◎
×

●Earthquake Countermeasures for Existing Buildings
●Earthquake countermeasures at multiple sites

Long period vibration monitoring system
(HM-0013)

◎
△
△

●Earthquake Countermeasures for Newly Building

monitoring system(SW-74)

〇
×
◎

●Control of critical facilities