Seismic waveform reproduction test
Vibration test case study

Reproduce of earthquake waves

Earthquake resistance
Test overview
■ Purpose
To check the behavior of the EUT by reproducing the observed seismic waveform data with a triaxial-vibration test system.
■ EUT
Tiered cargo pile, W1000 × L1200 × H3920 mm, 400 kg
■ Test conditions
Target waveform: Observed waveform (e.g. Southern Hyogo Prefecture seismic wave)
Name of seismic wave: Niigata Chuetsu seismic wave, Southern Hyogo seismic wave, Tohoku-Pacific Ocean seismic wave
Direction of excitation: Simultaneous excitation in three directions (NS, EW and UD)
*The reproduced waveforms were 100% of the waveforms processed within the capacity of the equipment under no load, with the vibration levels set at 10, 30, 50 and 70%. A total of 74 tests were conducted. Setting on the vibration table was carried out 23 times.
■ About this case study
This case study was conducted with displacement limited within the capacity of the test system, but as a large-amplitude seismic testing system was introduced in our Tokyo Test Lab in March 2013, it is now possible to conduct the test with past seismic waves and each seismic test standard without displacement limitation.
Measurement status

Test image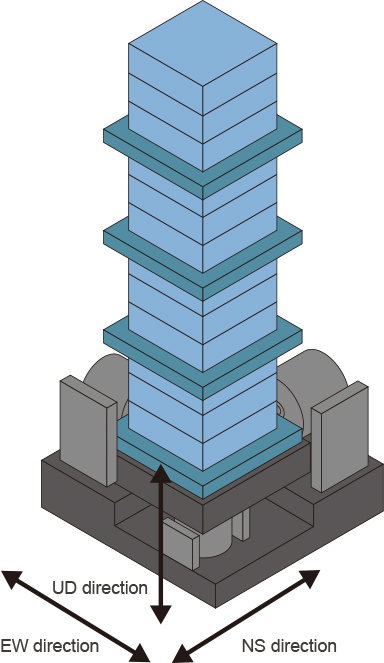 Memo
Facilities used
Vibration test system: TS-1000-10L
Vibration controller: K2 software BMAC
Extension table: made from plywood (owned by TTL/ATC Fork)
Other facilities: Installation of fall protection fence (1 day each required for installation and removal)
Test time
35 hours over 2 days
(Not including days for installation and removal of fall protection fence)