We can carry out vibration and shock tests on behalf of our customers, develop test conditions and assist with countermeasures in the event of failure.
We are always available to help you with the following requests and problems
You do not know how to determine the test conditions.
There is no problem in the field even though the test has failed.
Want to reproduce a failure that occurred in the field, but the test does not show the same failure mode.
The customer has presented us with test conditions, but you do not know what to do.
Wants to review whether the existing test method is appropriate.
If a problem occurred in the test, was it solved with a single design change?
Want to design a product with the vibration/shock environment in mind from the development stage.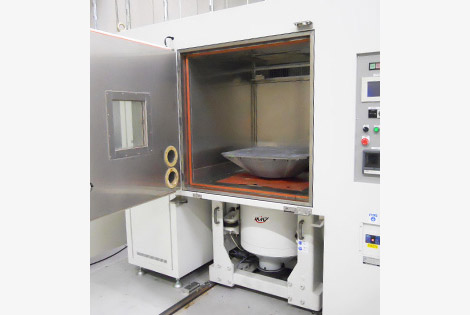 Vibration and shock testing requires a high level of expertise and extensive experience, but it is quite costly to train and maintain such specialists in each company. One solution is to outsource various vibration-related issues. The IMV Test Lab has a number of solutions, so feel free to contact us for more information.
IMV's Test & Solution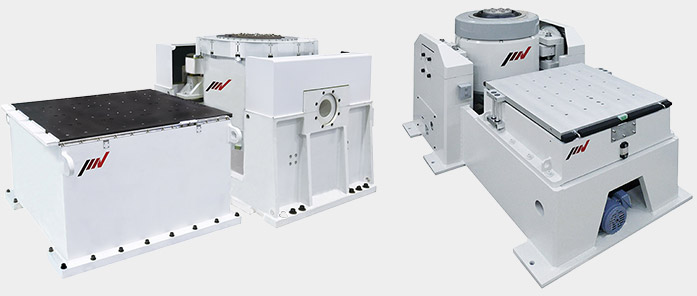 Proven and Reliable Testing Technology
Extensive Testing Experience in Various Industrial Fields
We have over 20,000 test results from automobiles, rail vehicles, aerospace, various electronic devices, transport testing, earthquake resistance, battery-related tests and ships.
In responding to the demands of these diverse industries, we have a wealth of test cases and know-how relating to global and industry standards for vibration testing, as well as our customers' own test standards, enabling us to offer a range of appropriate test modes, methods and environments.
Vibration Test
Sine
Random

Mixed modeSine-onRandom、Random
on Random、Sine-on Sine

Measured waveform reproduction
Seismic wave reproduction test
Response spectrum
Sine beat
Sine burst
Single-axis excitation
Simultaneous 3-axis excitation
6DOF
Multipoint vibration
Multi-channel vibration・
Simultaneous stress data recording
Analysis
Response measurement
Experimental modal analysis
Shock
Classical shock (half-sine, sawtooth, trapezoidal) shock response spectrum
Combined Tests
Combined temperature, humidity and vibration test
Combined temperature, humidity and shock test
EMC Tests
Emission and immunity tests in accordance with ISO, MIL, CISPR standards and various vehicle manufacturer standards (ISO 17025 certified).
Reliable Testing Technology
Our engineers are vibration professionals with advanced testing skills. We carefully examine your test requirements, propose a precise test plan and carry out the operation.
In addition, our equipment strictly complies with the requirements for ISO/IEC 17025 certification and maintains high-quality operation.
Appropriate Advice and Consultancy
Standard interpretation, standard selection, test tailoring, test execution, consultation on countermeasures
The Industry's No. 1 Testing Environment
Our Special
6-DOF Large System (TS-9600)

The 6-DOF vibratory apparatus, which can be suspended, enables highly repeatable testing of underfloor equipment such as railway rolling stock. It is equipped with a 4 m ( D ) x 3.5 m ( W ) x 1.9 m ( H ) mounting platform, and provides 6-DOF, high-precision vibration to the specimen.
Of course, the EUT can also be mounted in the normal direction, making it suitable for air-conditioning equipment, door openers and other equipment installed on the roof of a vehicle. The large 6DOF vibratory apparatus is also designed to be versatile and can be applied to vehicle seating and underfloor equipment. (Osaka Test Lab.)

Combined with Very High Temperature Furnaces (700-900°C)

Tests can be carried out on components exposed to very high temperature environments. (Uenohara Site Advanced Testing Centre)

High-Acceleration System

High-acceleration vibration tests involve a certain risk of damage to the equipment. However, we offer safe high-acceleration testing through careful adjustment and unique customisation. (Nagoya Test Lab)

Test Systems for Crosstalk Accuracy
(In planning)

The know-how and technology of the equipment development vendor is utilised to provide a testing service with improved crosstalk accuracy. (Nagoya Test Lab)

Multipoint Excitation Control Technology for Reasonable Shaking of Long Items.

A multi-point shaker system combining small and medium-sized machines is constructed to test long and large specimens with high accuracy.
Test Environment
Lots of Test Systems
Lots of Test Systems We have a wide range of vibration test systems, from small to large. In particular, we have the industry's No. 1 line-up of large types. Most of them are equipped with a thermostatic chamber for combined testing and we offer flexible solutions.
Battery Testing
We have a dedicated battery testing laboratory.
Services include test planning and consultancy provided by engineers.
Long-term Testing Support
We provide an environment for long-term testing over a period of many months.
We will continue to meet our customers' demands.

In-house or Commissioned Testing?
In-house
Advantages

If testing frequency is high, testing costs are low.
The presence of relevant personnel can identify design problems, which can be expected to improve technical skills.
Having a range of testing systems will appeal to customers.

Disadvantage

Purchasing testing systems is expensive to equip and maintain
Engineers are always needed
Commissioned Testing
Advantages

If the frequency of testing is low, it is cheaper to outsource.
Can choose from a large selection of testing systems.
Can be used when your own system is not available.
Can be used when there is a shortage of manpower.
Can be entrusted with everything from test planning to implementation.

Disadvantage

In-house testing is cheaper if the frequency of testing is high.
There are time and distance constraints on the presence of relevant personnel.
Conclusion
Commissioning is recommended for difficult tests.
It is recommended to purchase testing systems except for special systems.