"Testing related to electromagnetic waves (noise) from electrical and electronic products." In addition, the following two tests are composition.
Emission (EMI) test:Turns evaluation whether the emitted electromagnetic waves fall within the limits determined by test standard.
Immunity (EMS) test:Turns evaluation the likelihood of unexpected operation due to electromagnetic waves.
「All about EMC Test」for a more detailed explanation.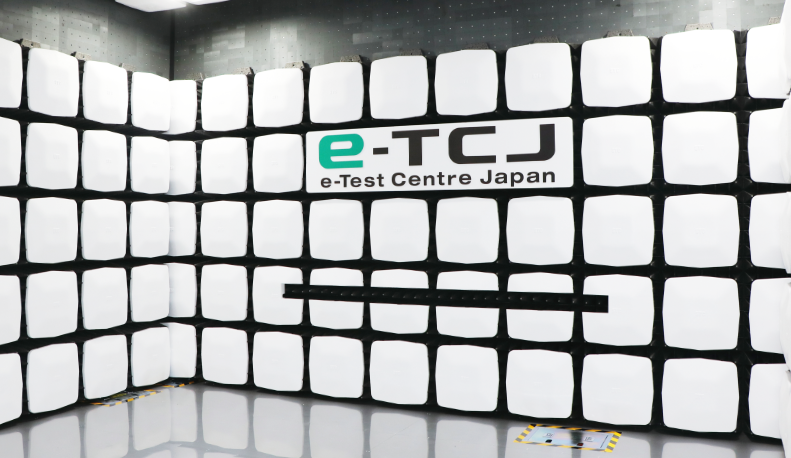 Feature
e-TCJ manages and tests EMC testing of Must worldwide in e-mobility by more than 20 years of carrier experience.

Operates under a strict laboratory quality management system (ISO 17025).

(Accredited by JAB)

Mazda Corporation officially approved it as a "MES67602D accredited testing laboratory."
Since the tester is capable of testing devices other than in-vehicle devices through its own networking, be sure to inquiry the tester without fail for EMC testing, certification, or certification.
Feature
Products
compatible test standard
Features
Special
ISO17025
Automotive Equipment

CISPR25 (EMI)
ISO11452-2(ALSE/radar pulse)
ISO11452-3(TEM Cell)
ISO11452-4(BCI)
ISO11452-5(Stripline)
ISO11452-8(MI magnetic field)
ISO11452-9(Antenna proximity)

ISO10605(static electricity)
ISO7637-2,3(transient test)
triplate test
Square wave noise (impulse)
magnetic field exposure(ICNIRP)
ECE Regulation 10(Annex10)

Manufacturers test standard
MAZDA certificate
「MES-PW67602C」
「MES-PW67602D」
JAB ISO17025
Marine machinery
Vibration/temperature/salt spray/IP at the same time
(limited range)
Classification support
JAB ISO17025
Railway machinery

IEC 62236-3-2
IEC 32236-4

Vibration/temperature at the same time.
JAB ISO17025
Industrial machinery

IEC/EN 61000-6-1
IEC/EN 61000-6-2
IEC/EN 61000-6-3

IEC/EN 61000-6-4
IEC/EN/JIS 61326-1
KN/KS C 61000-6-1

KN/KS C 61000-6-2
EN/CISPR 55011

Korean KC self-registration procedures available
Various individual standards can be supported.
JAB ISO17025
Consumer electronics

VCCI
CISPR 22/32
EN 55032

J 55032
FCC Part15B
ICES-003

Electrical Appliance and Material Safety Law compliant
FCC/IC acting as agent for an application
JAB ISO17025
Aerospace and defence
※limited frequency range
Radio systems

EN 301 489-1
EN 301 489-3

EN 301 489-14
EN 301 489-17

High-frequency use facilities

Possible to apply for radio-frequency use equipment under the Radio Law on behalf of the applicant.
Radio testing agency
JAB ISO17025
Medical equipment
limited-range support
We can also provide consultation on a wide range of other products. Please feel free to contact us for more information.
Various standard radio tests and worldwide certification support (over 100 countries)
Electrical testing
Various certifications
Overseas testing
Automated testing
Advice on EMC design and countermeasures
Private seminars
Inquiries
Please wait a moment for the form to appear.
If the form does not appear, pleasecontact us