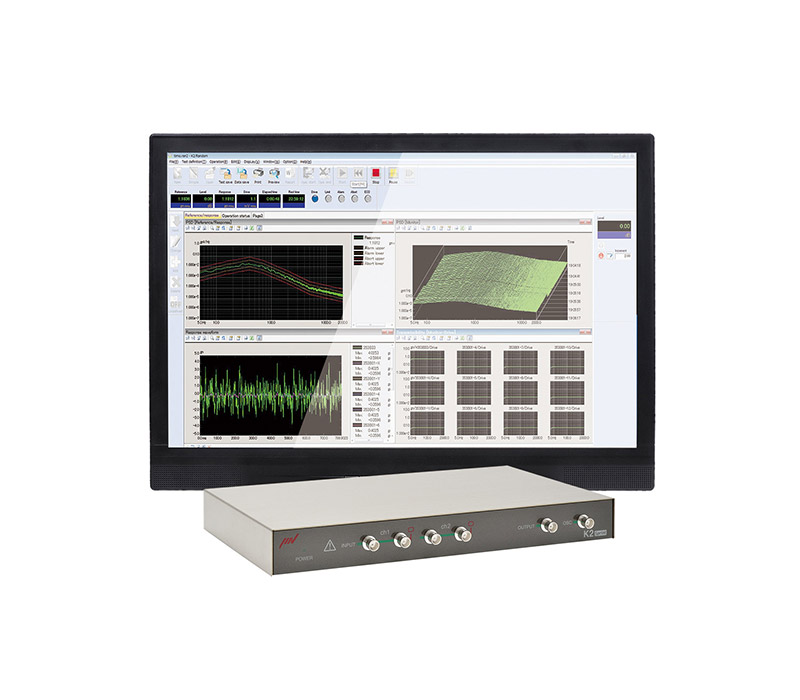 Vibration Controller
K2 Sprint
Common hardware supports all types of vibration test.
While inheriting all of the performance and features of the K2, the K2 Sprint offers improved cost-effectiveness with 2-channel hardware.
K2 Sprint is best-suited to single monitor-channel operation.

[Differences from K2]
● Input 2 channels (No expansion)
● Output 2 channels (No expansion)
Features
User-friendly interface
Intuitive operation

Easily-recognised icons are used for file management.

Short-cut operations

The key operations are initiated using a simplified set of commands.

Help

Each stage of operation is supported by detailed help pages.
Easy-to-use functions
Web monitor

A user can monitor a vibration test remotely by connecting over the internet.

Report generator

Results can be exported to Microsoft Word in a range of customised formats.

Scheduler

Define the test schedule and execute it in order.
Precision control capabilities
K2 employs high-resolution 24-bit A/D and D/A converters to achieve high-precision, repeatable control.
Safety interlock function
A hardware mute function operating independently of software provides complete protection for the vibration system and payload.
E-mail notification
Remote sites can be notified by email of any abnormality during testing or termination of a test.
Data saving
Test definitions and results are output from the K2 in CSV format.
Software
Common optional software
CAPTURE (Analogue waveform signal data program)
Provides analogue waveform signal capture, saved data can then be used as the reference of SHOCK waveform controls or Random vibration PSD control.
| | |
| --- | --- |
| Sampling Frequency | 51.2 kHz maximum |
| Data Length | Maximum 5000k points |
| Input Channel | 2 |
| Waveform edit/analysis function | Filtering, Frequency transfer processing, PSD transfer, Transmissibility ratio between channels |
SCHEDULER(Test scheduler)
Pre-defined tests can be executed in sequence.
Integrated Control System
Signals are available from K2 to control a climatic chamber, synchronising thermal and vibration tests.
TCP Communication Server
TCP communication server software that allows external applications to operate K2 applications and acquire vibration data and operating status by sending and receiving commands via TCP / IP.