About company
The company leaves the evaluation of various in-vehicle parts to each supplier, but they do evaluation and experiment on their own core parts such as engine parts and body frames.
Customer challenge
For product development and production, it is necessary to follow the climate, culture and raw materials of each region, so field tests of development evaluation items are indispensable. Large parts such as cut body are included in the specimen, and the specimen is too big for usual size chamber. Therefore, they need to prepare a large thermostat like a walk-in chamber.
The challenge in testing large parts is the operation of mounting specimens. It is desirable that work can be completed as easily as possible, safely, quickly.
IMV solution
This facility combines a walk-in chamber with a vibration test device that can test large samples. Then, with the aim of accessing the inside of the thermostatic chamber directly from the test room by hand, the exciter is put into the pit and the height at which the specimen is mounted is adjusted to a level slightly above the floor level. When transferring to the table on the shaking table with a hand lift, we have also devised a way to change the table by moving up and down just by air pressure. It is so that the operator can work alone.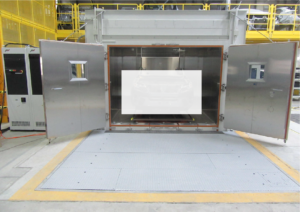 Customer benefits
In large-sized tests, it is directly connected to the test time, that is, the development period, as it is safe and smooth to install the specimen. By using this facility where carts loaded with large parts in the thermostatic chamber can be used as it is, improvement and evaluation of products can proceed efficiently.