Tests of large railway vehicle according to JIS E 4031 (IEC 61373)
Vibration test case study

JIS standard

Railway

Random and shock
Test overview
■ Purpose
To perform random vibration tests and shock test based on JIS E 4031: 2013 (IEC 61373 Edition 2.0).
We can also handle large railway vehicle products that are difficult to handle with conventional testing equipment due to limited testing locations.
■ EUT
VVVF inverter unit, W2140 × L2800 × H675 mm, approx. 1350 kg
■ Test conditions
[Applicable standards] JIS E 4031: 2013 Category 1 Grade A (or IEC 61373 Edition 2.0)
[Test sequence] Tests were carried out in the following sequence in the vertical, forward/backward and left/right directions respectively.
1. Transfer function test (initial measurement): Transfer function and coherence are measured.
2. Vibration endurance test: 5 hours in each direction 4.
3. Vibration function test: 10 min in each direction (check performance by operating the EUT)
4. Transfer function test (final measurement)
■ Features
・The EUT is directly suspended and mounted on the vibration table, so there is no need to produce a large fixtures.
・The system can be installed once, reducing the time and effort required to change the direction of vibration.
・The crosstalk control system targets zero vibration in any direction other than the direction of excitation.
・The latest standard adds the following to the text: If there is a prior agreement between the recipient and receiver parties, simultaneous tri-axial multi-axial testing may be applied.
・This testing system enables vibration durability tests to be carried out in three axes simultaneously, so that the test time can be reduced from 3 directions × 5 hours (15 hours in total) to a total of 5 hours in three axes simultaneously.
Fig. 1 Vibration endurance test requirement PSD / Fig. 2 Shock requirement PSD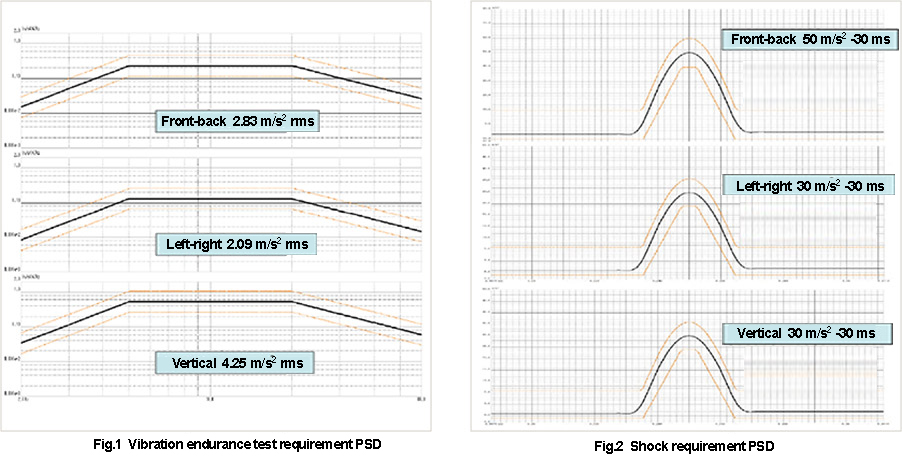 Photo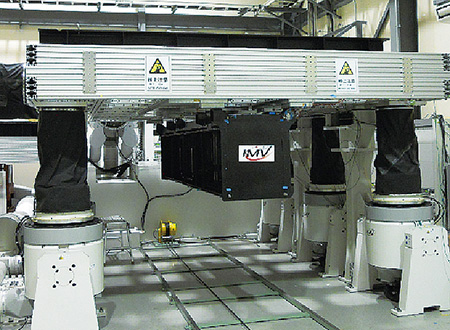 Memo
Facilities used
Vibration test system: TS-9600-40L
Vibration controller: K2 software MULTI-RANDOM, BMAC.
Test time
3 days (4-5 days including preparation and clean-up)
25 hours (7 hours/day × 3 days + 4 hours of preparation and clean-up)