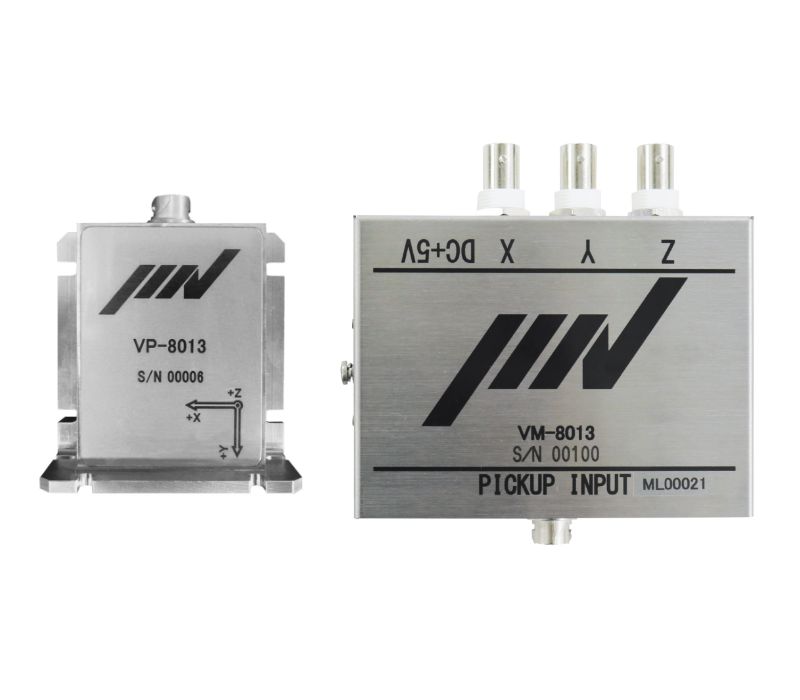 Vibration Sensors
Broad Motion Sensor

(VP-8013 / VP-8013S)
Covers ultra-low acceleration up to high-frequency mechanical vibration.
Broad motion sensor, VP-8013, with the use of an original sensor module developed by IMV is enabled to measure and monitor vibration in wide frequency range which was not covered by single sensor of any conventional types.
Features
Covers from ultra low acceleration (0.04 Hz)* up to high frequency mechanical vibration (1000 Hz)
VP-8013S is suitable for more micro vibration measurement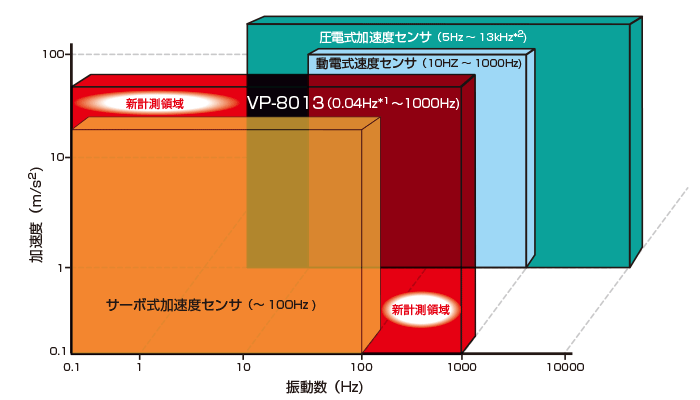 *1:Actually the output starts from DC, performance confirmed range is from 0.04 Hz.
*2:In case of IMV product
Compact design with three axis detection
VP-8013 is easy to use as compact design with 3 axis detection.
Fit in the hand
Shock durability 10000 m/s2
Usually servo sensor is vulnerable to any physical shock and careful handling is necessary when fixing, however VP-8013 can survive in strong shock up to 1000G.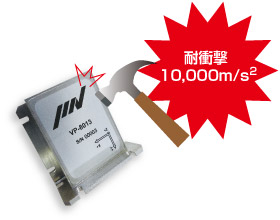 The power supply unit has Micro USB connector
The power supply unit has Micro USB connector. Easily connectable to other measuring instruments. Mobile measurement is possible by using a portable battery charger on market.
Power is suppied with Micro USB connector

Connection example of mobile phone battery charger
Application examples
Low frequency

Able to measure the visible vibration or fluctuation with high accuracy.
Application examples

Building / Floor / Chimney / Support / Antenna
Low speed rotating machine / Mixer / Centrifugal separator / Plumbing vibration
Crane / Construction machine / Conveyor

Steel tower

Pipe
Micro vibration

Able to measure the micro vibration which is normally measured by servo sensor.
Application examples(Machinery that causes bad influence by vibration)

Semiconductor manufacturing equipment
Laser processing machine
Precision machinery
Medical equipment

Machine tool
Mechanical vibration

Able to cover the frequency 10-1000Hz, stated by ISO-10816-1 "Mechanical vibration — Evaluation of machine vibration by measurements on non-rotating parts – General guidelines" *ISO-10816-1 is widely used for vibration measurement and evaluation of rotating machine over 600rpm. Further, the sensor can measure not only the low frequency vibration of a slow rotational machinery as a mixer, but also be used for total vibration evaluation of building, basement and the machine itself.

Measurement of mechanical vibration of motor and its frame
Application
Data Viewer Application VP8013App
Concept
VP DataViewer is a software for analysis according to the purpose using data measured with VP – 8013 and logger. Utilizing the broadband measurement capability and microtremor measurement capability of VP – 8013, it is possible to perform various analyzes that were difficult to realize with one sensor so far. You can also read and analyze the saved file of the IMVFW format saved by another measuring device.
Application examples
Evaluation of ground, floor vibration
For evaluation of influence of traffic vibration on the building residential quality is performer by 1/3 octave acceleration analysis from 1 Hz. On the other hand, 1/3 octave velocity analysis from 4 Hz is now commonly employed by the environmental vibraton standard of the installation facility of the semicondoctor device manufacturing system etc. VP-8013 App has the criteria lines as above, therefore, those 1/3 octave analysis can be evaluated being compared to such lines.
Vibration evaluation for pipes
The evaluation standard that SwRI (Southwest Research Institute) determined is used for the vibration evaluation on the pipe fixing structure in chemical plants. This standard is referred on FFT analysis of the displacement from 1 Hz. VP-8013 App is equipped with SwRI evaluation standard, and it can compare the FFT result to the criteria of the standard directly.
Analysis for low-speed-rotary machinery
For analysis of the main shaft imbalance of low-speed rotary machines less than 600 rpm is carried out targeting to mainly on 10 Hz or less frequency components.
It can get FFT analysis immediatery from data of VP-8013 which can measure low level vibration easily.
Screen image
Waveform display

This App can make DC cut from an acceleration waveform of VP-8013, BPF setting flexibly and support the conversion to velocity and displacement waveform.

Tripartite

FFT result is refrected into a tripatite graph of frequency, displacement, velocity, and acceleration. You can locate vibration sources of the part to be paied attention.

Lissajous

Draws a trace graph displaying 2 axes vibration data. It is used to find influence of the wind find on the pole etc.
Connection on measurement
Features
for measuring
・Easy to set up・Unnecessary to use with AC power supply while measuring・Wide variety of recording method・Can be installed temporarily with power supply by AC adapter.
for analysis
・Measurement condition is read automatically by data of GL980・The CSV form output is available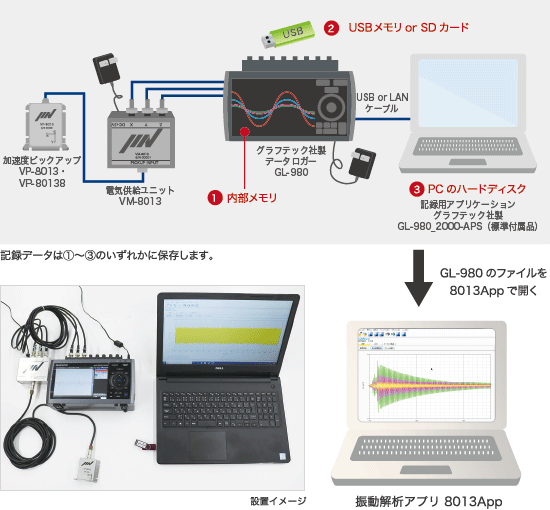 Outline Drawings
*Include Imperial measurements
Acceleration snsors (VP-8013/VP-8013S)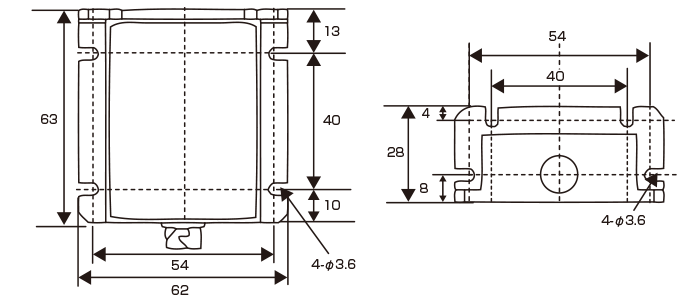 Power supply unit (VM-8013)