Korean public institution: Automotive related research and development
About company
In Korea, there are many public organizations for research and development and technical tests for regional companies by industry, such as automotive equipment, electrical equipment, construction equipment, marine equipment, optical equipment, daily goods, etc.
In addition, public organizations are also conducting joint research with local companies and facility opening (test service) as technical support.
This case study is a public organization that aims to research and develop automotive equipment.
Customer challenge
The system at a public institution can not identify products or test conditions, so it is necessary to introduce equipment capable of meeting various testing needs.
In the automotive field, the demand for combined test machine is high, and equipment with a chamber is required.
In addition, this system that can support 11 ms 100 G shock test is desired.
IMV solution
The system has an impact excitation force of 196 kN peak, a maximum velocity of 4.6m/s peak, and a maximum displacement of 100 mmp-p in order to correspond to an 11 ms 100 G impact test.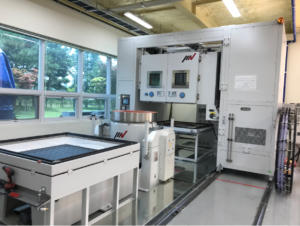 Customer benefits
When testing automotive parts, it may be necessary to test the vehicle in its installed state.
This system enables horizontal combined testing combined with a chamber.
The door of the chamber adopts the open cut method, and it is possible to connect the chamber after attaching the test product to the vibration testing device and the horizontal table, and there is no need to work in a narrow test tank.
In addition, the cover of the chamber floor at single use of vibration shaker for chamber independent operation is attached, and it is possible to carry out the vibration test and the temperature and humidity test at the same time.
J-series(Large-Displacement Range)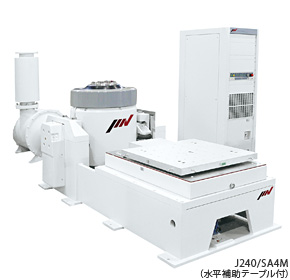 Long duration shock tests require high velocity and large displacement.
J-series is a high-functionality system that offers usability and durability furnished with functions that accommodate high velocity and large displacement testing.