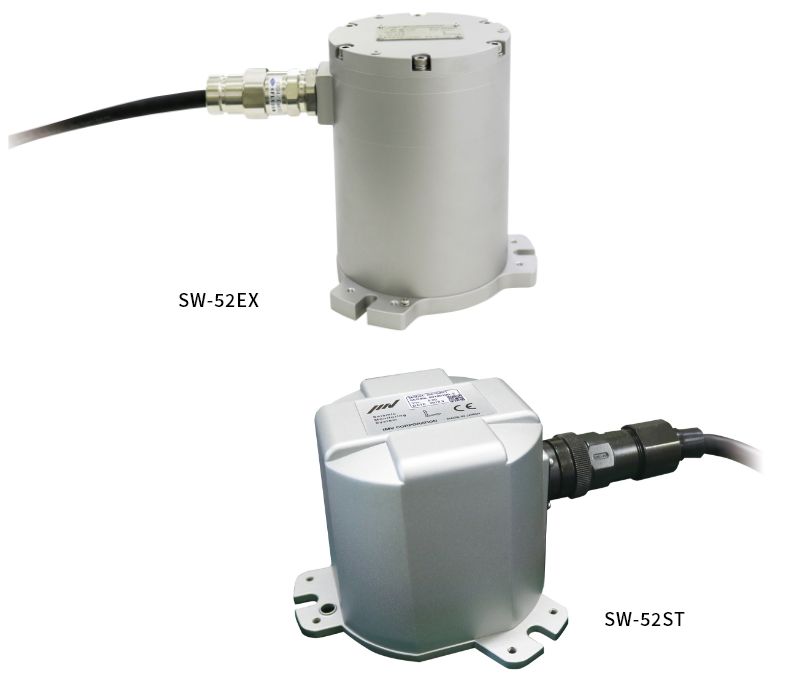 Seismometers
Seismic Monitoring System
(SW-52EX / SW-52ST)
Uses high resolution servo accelerometer which can detect microearthquakes
SW-52EX/SW-52ST can provide alarm outputs for control in the event of an earthquake on gas and dust explosion areas such as petrochemical or hydrogen plants, manufacturing plants, etc. High resolution servo accelerometer enables to prevent secondary disasters caused by earthquakes.
Features
Reliable accuracy
Built – in servo type accelerometer is also used for detection of micro-tremor. Both indication setting and alarm setting is 1 gal step.
Waterproof structure
It is ideal to install the seismometer on the common foundation to catch the motion of earthquake correctly. SW-52EX / 52ST adopts IP67 waterproof structure which is able to be installed outside or dusty environments.
Available to large-scale earthquake monitoring
The peak of motion in any direction can be surely captured by vector composition of the accelerations detected by the accelerometers arranged in three directions. The measurable acceleration range up to 5000 gal prepare against the large-scale earthquake.
Flame-proof structure
* Only SW-52EX
The container is constructed to withstand the pressure when explosive gas explosion occurs and not to catch fire.
Standard communication method
RS-485(ModBus)is adopted.
System Composition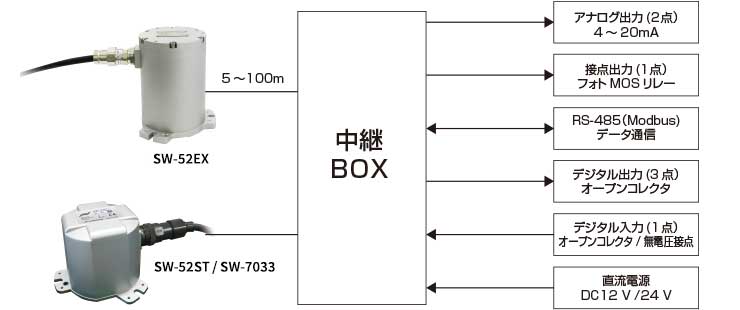 Flame-proof / dust-ignition-proof specification (SW-52EX)
Certification
Ex db IIB+H2 T6 Gb (IECEx, ATEX)
Ex d IIB+H2 T6 Gb (TIIS)
Ex tb IIIC T120℃ Db (IECEx, ATEX,TIIS)
Certification No.
IECEx DEK 16.0004X
DEKRA 16ATEX0005 X
TIIS TC22341X
Compliance standard
IECEx
IEC 60079-0:2011
IEC 60079-1:2014-06
IEC 60079-31:2013
ATEX
EN 60079-0:2012+A11
EN 60079-1:2014
EN 60079-31:2014
TIIS
Explosion-protected electrical installations in general industries
JNIOSH-TR-46-1:2015
JNIOSH-TR-46-2:2015
JNIOSH-TR-46-9:2015
Classification of explosive gas
Explosion-proof performance display
Group:ⅡA,ⅡB,ⅡCC
Temperature class:T1,T2,T3,T4,T5,T6
450℃ ≧ T1 > 300℃
300℃ ≧ T2 > 200℃
200℃ ≧ T3 > 135℃
135℃ ≧ T4 > 100℃
100℃ ≧ T5 > 85℃
85℃ ≧ T6
ⅡA
NH3, CO, C2H6,
C7H8, C3H8, CH4

C2H6O, C4H10O,
C4H10, C5H8O2,


C6H14, gasoline,
Kerosene, C5H12

C2H4O, C3H9N

Ethyl nitrite
ⅡB
HCN, C3H3N,
Coal gas

C4H4O,
Ethyl acrylate,
C2H4
C2H6O, C6H12,
C5H8

ⅡC
H2
C2H2
CS2
C2H5NO3
Main explosive gas targeted by this product
Classification of explosive dust (GroupⅢ)
Type of dust
Electric resistance
Representative materials
ⅢA

Combustible flyers
Size > 500 μm

–

Textiles such as rayon, cotton, sisal hemp, jute

ⅢB
Non-conductive dust
Size ≦ 500 μm
Electric resistance > 103Ωm
Powder such as cereal flour, sugar, toner, synthetic resin powder
ⅢC
Conductive dust
Size ≦ 500 μm
Electric resistance ≦ 103Ωm
Metal powders such as carbon black, aluminum, magnesium
Outline Drawings
*Include Imperial measurements
SW-52EX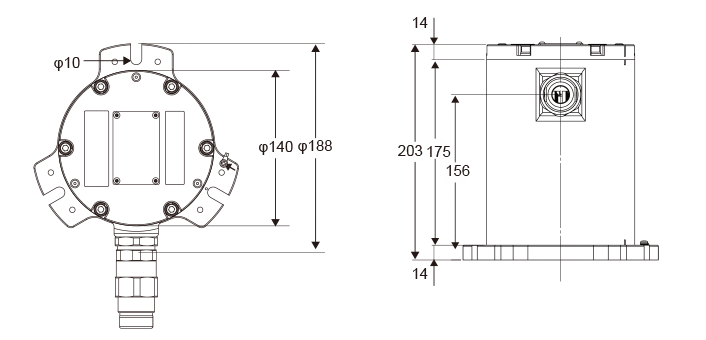 SW-52ST