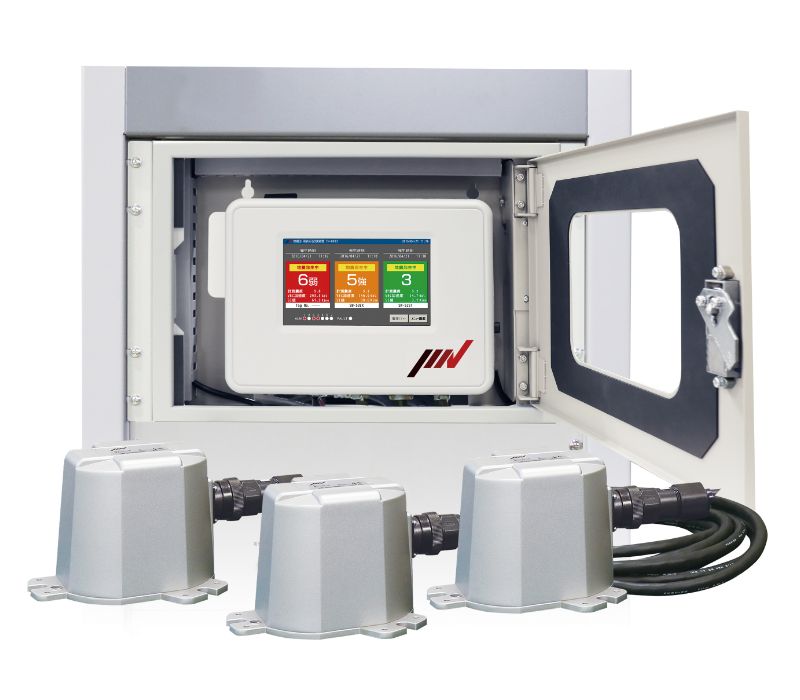 Seismometers
Seismic Monitoring System With Display
Can be connected with up to 3 seismometers
Used in combination with earthquake monitoring system and display/recording system.
This is a high-precision seismometer that uses an acceleration sensor that can detect even minute seismic motions.
Features
Display function
Full color and large panel enables speedy observation.
Free from complicated connection
One touch connector enables easy connections
Easy installation
U-shaped fixing hole makes easy to anchor. Level gauge is equipped.
Water proof structure
The accelerometer has IP67 water proof compliant structure for installation at any location.
Time history display
Up to 100 histories can be saved.
Seismic monitoring system with display(TM-0013-SW/TM-0013-A)
TM-0013-SW/TM-0013-A
This is a display and recording device for seismometers that is used in combination with the earthquake monitoring device SW-52EX (pressure-proof/dust-proof type) and SW-52ST/SW-7033 (dust-proof/immersion-proof type) .
Up to 3 seismometers can be connected. In addition to displaying and recording earthquake information for the three seismometers, changing settings, and importing waveform data recorded by the seismometers, it is also possible to output after logical judgment on earthquake warnings issued by the three seismometers [AND/OR/2 out of 3] is possible.
TM-0013-SWWith rack

TM-0013-AWithout rack
Features
・7 inch color liquid crystal touch panel
・4 GB memory card
・Earthquake information indication
・Earthquake history confirmation
・Earthquake alarm relay output 7-point

・Fault alarm relay output 1-point
・Relay output test
・Time calibration
・Digital output 1-point

・Analog output 6-point
・Analog output adjustment / test
・ test
・Waveform data acquisition

・E-mail notification of earthquake
・External monitor software connection
・Printer connection
・Blackout compensation
Block diagram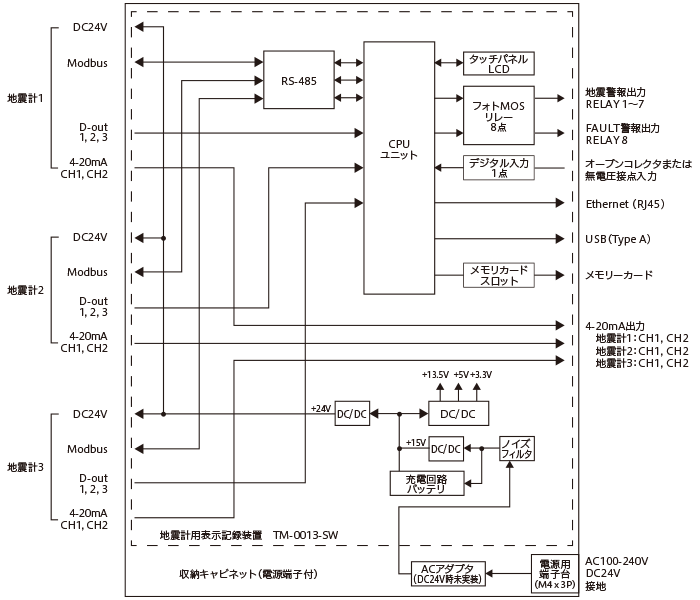 Seismic monitoring system(SW-52ST/SW-52EX/SW-7033)
SW-52ST/SW-52EX/SW-7033
SW-52ST/SW-52EX/SW-7033(optional) calculates the seismic intensity scale (measured seismic intensity) using the calculation method specified by the Japan Meteorological Agency from the acceleration signal detected by the built-in acceleration sensor, and destroys structures due to seismic motion. This is a device that calculates the SI value, which is an index, in real time.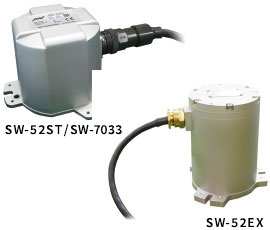 Features
・Acceleration sensor
・3-direction non-directivity

・Digital output 3-point
・Relay output 1-point

・Digital input 1-point
・Analog 4-20 mA output 2-point

・Sevsor test
・Sensor self diagnosis
Block Diagram
Combination Examples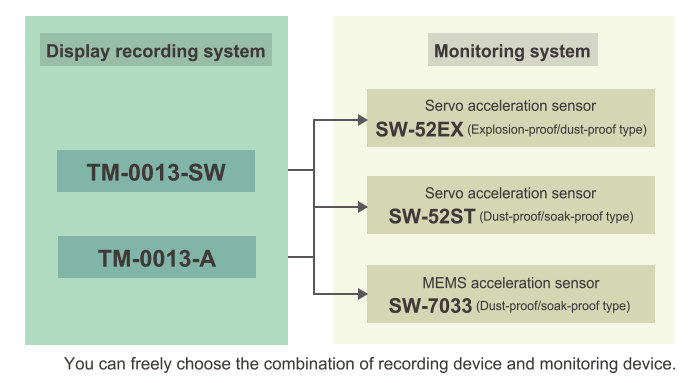 Application Examples
Semiconductor manufacturing facilities

Voice announcement in a factory

Public facilities
Option
Printer(RP-E11-W3FJ1-U)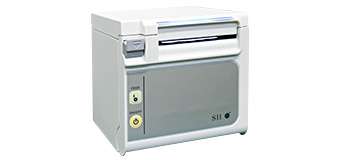 Print accelerometer, earthquake scale and time from the seismic monitoring system.
Outline Drawings
*Include Imperial measurements
TM-0013-SW

TM-0013-A

SW-52ST/SW-7033

SW-52EX