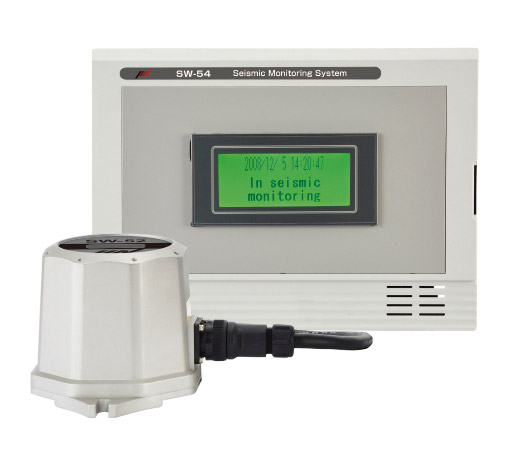 Seismometers
Seismic Monitoring System With Display

(SW-54 & SW-52)
A popular seismometer with display
SW-54 uses high-resolution servo accelerometers which can detect micro earthquakes.
Features(SW-54)
Indication function
Importance level of information is shown by back color. It can be recognized even by remote watching.
On earthquake ocurrence, "ocurrence time", "peak acceleration", "seismic intensity scale (measured seismic intensity)" are displayed.
Memory function
Up to 50 time histories can be saved.
*Option software is needed to export waveform data.
Alarm setting
3-step alarm output by acceleration is possible. Alarm level is possible to be set.
Easy to operate
Touch panel is adopted. Easy operation makes speedy confirmation in an emergency.
Alarm setting
Compact size makes easy installation. It can be stored in a rack.
Waveform observation
By connecting with PC on which the option software is installed, various settings of the device and seismic waveform data stored in the internal memory can be acquired.
Features(SW-52)
Reliable accuracy
Built – in servo type accelerometer is also used for detection of micro-tremor. Both indication setting and alarm setting is 1 gal step.
Waterproof structure
It is ideal to install the seismometer on the common foundation to catch the motion of earthquake correctly. SW-72/72R adopts waterproof structure equivalent to IP67's which is able to be installed outside or dusty environments.
Available to large-scale earthquake monitoring
The peak of motion in any direction can be surely captured by vector composition of the accelerations detected by the accelerometers arranged in three directions. The measurable acceleration range up to 5000 gal prepare against the large-scale earthquake.
Easy installation
For the conventional seismometers, 4 points are requested to be fixed by anchor bolts. SW-72 or SW-72R has two cut-out holes for fixing bolts so that bolt position adjustment can be easier.
Compact design
In addition to the compact size, the cable port is located at the lower part and outer round shape to be surrond friendly.
Block Diagram

Option
External display (ED74)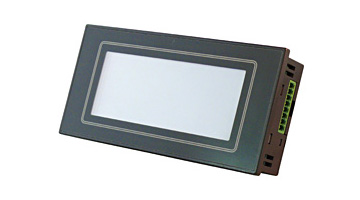 Indicates acceleration amplitude, seismic intensity scale and alarm occurence time.
Multiple control unit (2 out of 3) CU-5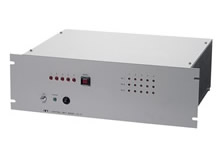 This device makes reliability of the relay contact output of the alarm signal to control or stop activation higher. An alarm signal is output when 2 units out of 3 generate alarm signals.
Seismometer detector protection housing (SW-72-PC-SUS)
Outline Drawings
*Include Imperial measurements