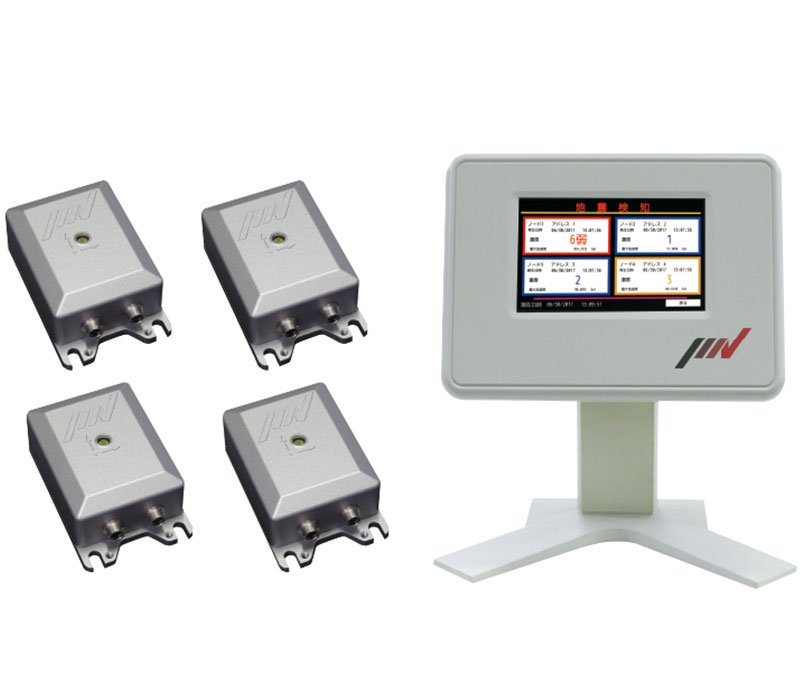 Seismometers
Earthquake Watcher
Widely monitoring from long period earthquake to strong earthquake
By combining the long-period vibration monitoring unit (HM-0013) and the smart display unit,
it is possible to construct a multi-point earthquake monitoring and observation system.
Features
Easy to operate with easy-to-read icons
By adopting a color touch panel and menu display, it is possible to easily display and set the system status and waveform data.
Warning flash screen that allows simultaneous confirmation of multiple points
When an earthquake occurs, the seismic intensity, maximum acceleration, and time of occurrence detected by each HM-0013 are displayed.
Record up to 5000 records
*Depending on memory card capacity
Up to 5000 recorded data* can be recorded.
*Depends on the capacity of the memory card.
The history can be checked in the list, and the waveform screen can be checked by clicking.
Status monitoring with reserved measurement
Up to 4 waveform recordings can be reserved depending on the settings, and the condition of the building can be monitored on a regular basis.
Can be analyzed from the waveform display screen
Acceleration waveform confirmation and FFT analysis of recorded data are possible. It is possible to always grasp the state of the building at normal times, of course, after the earthquake.
Easy data collection with memory card
The data is recorded on the upper memory card and can be taken out and replaced smoothly. Even if the display is damaged, the data can be retrieved if the record remains on the card.
System Composition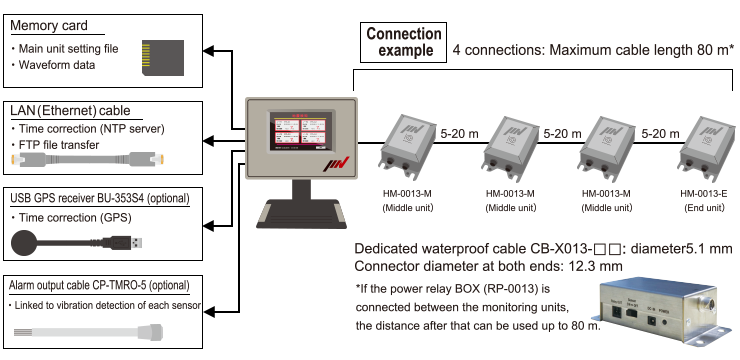 Outline Drawings
HM-0013-M (Long period vibration monitoring unit)

CB-X013-□□(Waterproof cable)

TM-0013-HM(Smart display unit)